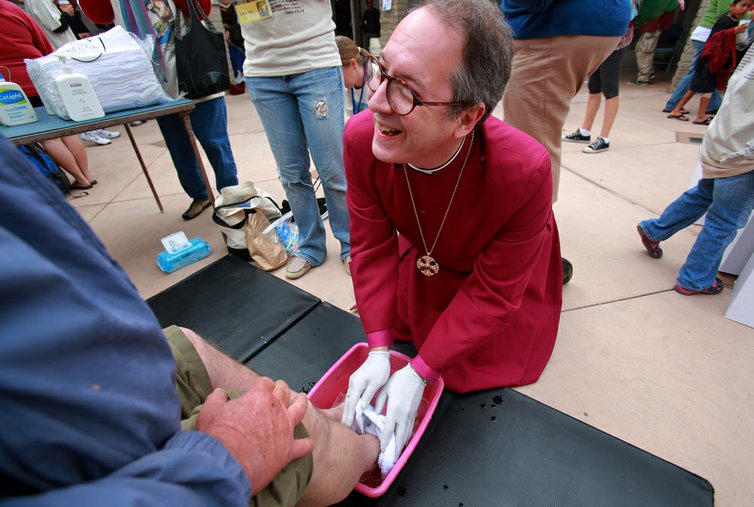 Maundy Thursday: Washing Feet and Touching Souls
Over 300 people received brand new shoes and socks during an Interfaith Community Foot Washing at the Episcopal Church Center in Ocean Beach on Maundy Thursday, April 5, 2012. They also received a hot meal, medical attention, oral cancer screenings, dental hygiene kits, general hygiene kits, free haircuts by a La Jolla salon owner, legal services, communion, prayer and veterinary attention for their pets. Perhaps more than all this, they received the message that, "they are not invisible; they are loved," according to the event organizer and Episcopal Church Center Director Nancy Holland.
"We are doing this to raise awareness about the issue of homelessness in San Diego," said Holland. "It's everyone's problem."
When asked about the criteria for those who received shoes and socks, Ms. Holland explained that anyone who signed up was granted new shoes in their size and preferred style (boots, tennis shoes or sandals). She replied, "our job is to not to judge; our job is to be generous."
Another unique aspect of this event was that our bishop, the Rt. Rev. James R. Mathes, washed the feet of about one dozen people in need. He could be spotted throughout the three-hour event on his knees, in his purple cassock, wearing his pectoral cross, and cleansing the feet of homeless people. Two television stations and two newspaper reporters were there to report on the foot washing.
"As I look out over this event," said Bishop Mathes, "I think Jesus is here. This is real ministry. This is fearless love."
As they had their feet washed, guests were prayed for, according to their expressed desires. Prayer requests tumbled out of them: "for my dad," "for money," "for a job so I can give back to this community."
One guest reported washing his feet every day for two weeks prior to the event. He was the first to have his feet washed. Another man reported that he'd walked all night to get to the foot washing. He desperately needed new socks and shoes.
Over fifty volunteers helped make this event a success. Episcopalians spearheaded the effort, but Lutherans, Roman Catholics, evangelicals, and others filled the service roles, from performing dental hygiene checks to administering communion.
From our diocese, St. Mark's, City Heights sent its youth group; St. John's, Fallbrook sent a team of volunteers who were there by nine o'clock in the morning; St. Paul's Cathedral provided volunteers, one of which was the verger who censed the courtyard proceedings, thereby reminding us of the Holy Spirit's presence. All Souls', Point Loma volunteers were integrally involved in the logistics and event planning. The Office of the Bishop assisted with registration and communication.
"It was a holy day that washed feet and touched souls," said Bishop Mathes. "I look forward to doing it again next year."
A short video by the Rev. Michael Russell